A couple of days ago, RFC Ambrian released it "Copper Projects Review 2020." Here is the link to it.
https://classicvalueinvestors.com/wp-content/uploads/2020/01/Copper-Projects-Review-Jan20-1.pdf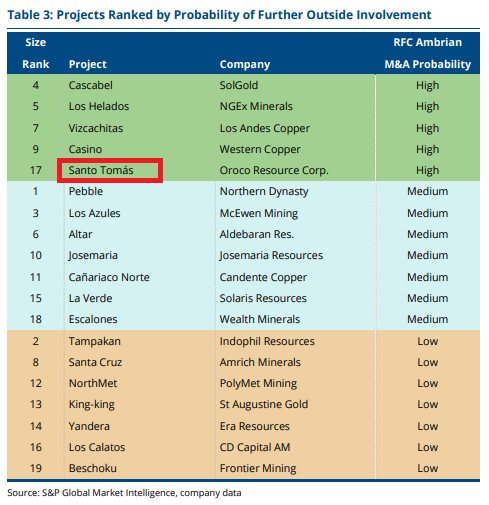 Santo Tomas made it to the top 5 projects that have the highest probability of third party involvement (ex. getting bought out).
Being included in the top 5 is a big endorsement especially considering the world didn't even know Santo Tomas existed 12 months ago. Immediately after the publication of the report, I started receiving texts and messages. One person said,
"Finally someone gets it! Maybe the market will listen to them instead of us."
Despite the obvious reasons to own this stock, many people still don't trust their analysis and instincts and instead ask "what am I missing" and make excuses not to buy.
Another person asked me to see if I had any opinion about the other four projects included in the top 5. In other words, the person wants to know how Santo Tomas ranks among the top 5 and if it is worth investing in the other four.
After analyzing the other four project, I realized that Santo Tomas is the best project in the world not in the hands of the majors yet. I mean this from the point of view of investors that can buy shares. In other words, Santo Tomas offers the greatest return and the lowest risk. Let's take a look at each of the other four.
CASCABEL
Cascabel is a porphyry copper-gold deposit in Ecuador. SolGold owns 85 percent of Cascabel. The project has NPV of $4.1 billion and IRR of 25 percent. The resource is 10.9Mt of copper and 23.2Moz of gold. Capex is $2.4 billion and life of 57 years.
The project is very good and there is a lot of interest in it. The problem is that SolGold already has a market cap of $500 million. Let's say Cascabel gets bought out for $2 billion (50 percent of NPV), this means $1.7 billion to SoldGold. Under such scenario, you can make 3 times your money. Not bad but nothing compared to Oroco's 10 to 20 times potential. I take Santo Tomas any day.
LOS HELADOS
Los Helados is a porphyry copper project in Chile. NGEx Minerals with market cap of $37 million owns 63 percent of it. The project contains 10.6Mt copper. The high grade zone has 200Mt @ 0.8% CuEq.
NGEx Minerals is a new company that was spun out with Los Helados in July 2019. Barely anybody is talking about it. There are only 2 stockhouse posts on it.
At this point, the project does not have NPV like the other ones in the top 5. Drilling to date totals 75,634 m in 88 drill holes
While at first, Los Helados may have some similarities to Santo Tomas, it is completely different. Los Helados will be an underground operation while Santo Tomas will an open pit operation. With everything being equal, open pit operations are cheaper to put into operations and thus more preferable. Again, I take Santo Tomas any day over Los Helados.
VIZCACHITAS
Vizcachitas project is located in Chile. It is owned by Los Andes Copper with a market cap of $86 million. It contains 7.7 Mt of copper. NPV $1.8 billion, IRR of 21 percent, mine life 45 years, and Capex $1.9 billion. This is assuming copper price of $3 per pound. The project also has good infrastructure.
On the surface, Vizcachitas is comparable to Santo Tomas. But very soon, you realize that it is not even close.
Recently, the company restructured management. Why? Because things were going so well? I don't think so. Let's go over some of the challenges and issues.
To start, read the following letter to the people of Canada.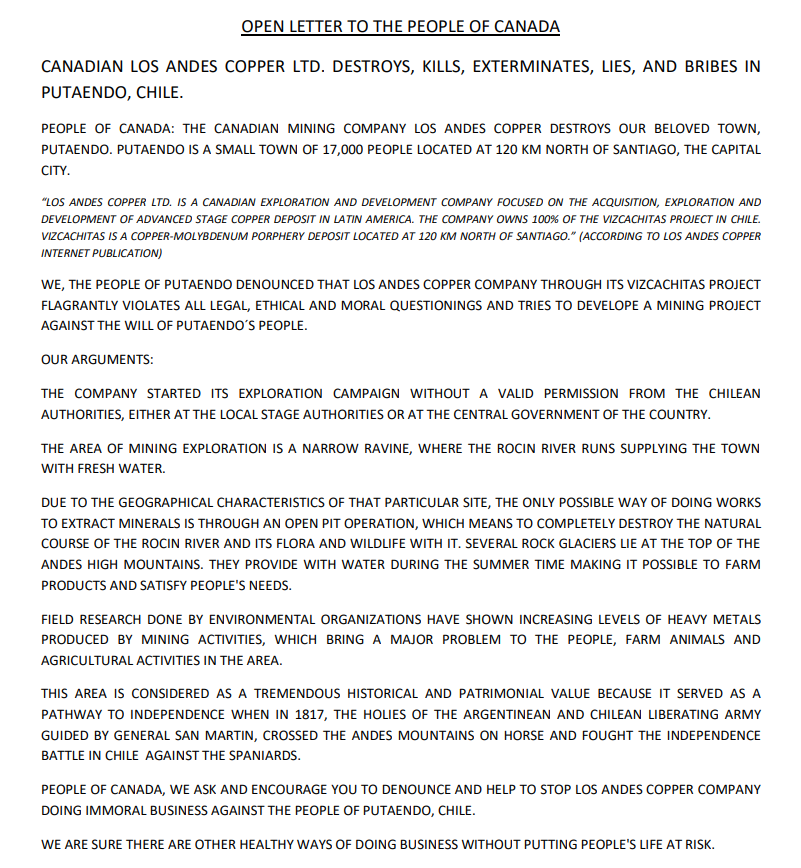 https://miningwatch.ca/sites/default/files/cartaalpueblodecanadaeningles.pdf
It does not look like the local people are big fans of the project. Santo Tomas faces none of such issues.
In addition to these environmental problems, Vizcachitas has access and topography problems. One of the technical reports said,
"Access and topography do present certain challenges for the project and must be addressed in the engineering phase."
Vizcachitas or Santo Tomas? I think you know the answer to this question. Next.
CASINO
Casino porphyry copper-gold-molybdenum deposit is located in Yukon, Canada. Western Copper and Gold owns 100 percent of it. The project contains 4.4Mt of copper. At $3 copper, the NPV is $1.9 billion and IRR is 22 percent. Capex is $2.5 billion and mine life is 22 years. The market cap is $80 million.
You might think, wow this is very similar to Santo Tomas. Not even close.
Casino project is in isolated location with infrastructure and environmental issues. Because of its location, Casino needs its own power plant. That's an additional cost of $210 million. Also, there are access issues. The project needs 130 kilometers of new road for the cost of $122 million and improvement of existing road for $111 million.
Consequently, the Capex is $2.5 billion vs $1.5 billion for Santo Tomas. Capex matters a lot for any mining company looking for an acquisition.
What also matters are environmental issues. Yukon Environmental and Socio-Economic Assessment Board moved Casino to a higher-level panel review. Such an action did not happen in 10 years of the agency. Such a thing happens when a project may have significant adverse effect.
How does this compare to Santo Tomas. Well, Santo Tomas has excellent infrastructure and no environmental issues.
And the winner is Santo Tomas.
CONCLUSION
Santo Tomas made it to RFC Ambrian's top 5 projects to have a third party involvement. In my opinion, Santo Tomas is Number 1. Yes, it is the best copper project in the world not in the hands of the majors yet.
The only reason why it hasn't been acquired by the major years ago is because the project spent the last 20 years in courts in three different jurisdictions (Bahamas, Mexico, and US). Because of the legal battles, no drilling or any sort of property advancement took place. This is about to change and all the other projects that appear to be comparable at this point are going to be left in the dust when the true value of Santo Tomas shows up after the upcoming exploration program.
Disclosure: Long Oroco
Frequently I see someone from Pendal Group visiting my website. Reach out to me directly so that I can get to know you.