Recently, I had some requests to write about Oroco (TSXV: OCO). So here is the introduction.
From 2012 to 2016, I wrote a newsletter called Ultimate Value Finder where I wrote about three investment ideas per month. In order to accomplish this task, I had to look through hundreds and hundreds of companies. One of the companies was Oroco Resource. At that time, the company was trading for cash in the bank. It also had a gold property called Xochipala Property. The stock price was about $0.02. I didn't invest in it but I kept following it.
Then, one day I noticed big volume trade. I started researching the Internet. One of the searches was Xochipala and I found this website http://www.santotomascopper.com/ (today under construction).
It contained all kinds of information about a legal battle over Santo Tomas Copper Project. At the bottom of the page, it had Xochipala Gold. Could Xochipala Gold, Oroco, and Santo Tomas be related in any way? After making some phone calls, I learned that there was a connection, but this still meant nothing.
I started researching Santo Tomas Copper Project and my jaw dropped. This thing will be worth between $500 million to $1 billion. The only reason why the major mining companies did not acquire it yet is because the property was involved in a legal mess since 2000. I wrote a long paper explaining the legals.
https://classicvalueinvestors.com/wp-content/uploads/2019/04/Aztec-Funeral.pdf
I looked at Oroco's market cap and it was about $3 million versus $500 million that I thought Santo Tomas was worth. I thought, this is a 100-bagger and no one knows about it. So I started buying a lot of shares.
Then, I told people about it. I sent out an email to my former newsletter subscribers. I was writing on Stockhouse message board. I thought that people were going to be all over this idea because I never saw anything better.
Barely anyone responded to my email and I compiled the following list of reasons why not to buy.
"Dozens of companies in the resource space make wild assertions about their asset value. Of course, few are accurate or pay off."

"A $5mm market cap company will be worth BILLIONS in a few years? Color me skeptical…"

"Oh buddy, you're succumbing to wild promoter talk. No interest. Find me something real and I'm happy to review it!"

"You tout."

"But I still don't believe in the deal. I don't think if the property in Mexico is so good that the owners would be willing to give it up for shares and no CASH. Cash talks and the rest walks. I wish you all good luck. But still don't think if it so good a MAJOR would have there hands into the deal.. Sorry been in the market since 1964..been broke twice and fought my way back.. I have heard ever story in the book and probably passed some around myself..but with old age my it bothers me. Again good luck."
I even submitted Oroco to a GuruFocus contest and here is the response that I got.
"Thanks for submitting an idea to the value contest! Unfortunately, we are not considering penny stock entries.
We would like to encourage you to find another stock that consistently trades for more than a dollar and write about it instead.
Please let me know if you have any questions. Have a great weekend!
Best,
Sydnee Gatewood
Editorial Assistant
GuruFocus.com."
Eventually, some people started coming around but only after it doubled and tripled since I bought it. I saw the stock go from $0.01 to $0.60. Obviously, I wish I bought for $0.01 but at the time of these lows, Santo Tomas was not in the picture.
HOW DID OROCO END UP WITH SANTO TOMAS
It is not common for small companies like Oroco to end up owning a huge asset like Santo Tomas. This is why there was so much skepticism. I have seen experts decline this idea because they were too lazy to study the situation.
You see, Santo Tomas was sold by a Mexican gentleman to a crook in 2000. This was during the time when copper prices were at historical low. This was before China happened. That crook never paid the Mexican gentleman. In other words, the crook stole the property.
Oroco/Oroco's management made a deal with the Mexican guy – "We will finance the legal battle. Get you the property back and earn 50 percent interest in the property." After a decade of fighting in three different jurisdictions, Oroco won.
This is how a tiny company got control over a giant asset. Read my long paper on the legals. Don't be lazy.
WHAT NOW
At this point Oroco owns about 65 percent of Santo Tomas and has the right to earn up to 81 percent after spending money on drilling (About CAD $30 million). Yes, there will be dilution so you can stop crying.
You might ask "I thought you said that the property is worth between $500 and $1 billion?"
Yes, but not at this time. Santo Tomas has been in hiding for almost 20 years. During that time, the world changed in terms of regulations and disclosure requirements. If you never heard of Bre-X scandal, then read about it. 43-101 requirements were born because of it. You can also watch Gold with Matthew McConaughey. It is about Bre-X.
The bottom line is this. Santo Tomas was compliant with everything before the legal mess. Now, those reports are out of date. The copper is in the ground because drilling is drilling. But in order for the big majors to pay $500 million for it, everything has to be in line with the new standards.
This means raising money for confirmation drilling which can then be used to update a bunch of reports. Oroco was in the middle of arranging financing, and boom, Coronavirus happened.
Before everything froze, the company was able to raise $750K for what is called 3D IP. The plan was to have this does in April. Well, Mexico closed the economy and this put a hold on 3D IP.
3D IP will be used to help with confirmation drilling. There is a lot to it but for now this is all you need to know.
The following was my roadmap to $5 per share before Coronavirus. Obviously, things will be delayed.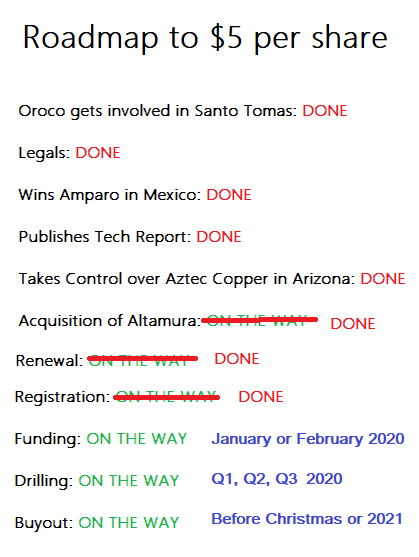 As you can see, there are three steps left for the completion of the investment thesis: funding, drilling, and buyout. Funding is needed for drilling. Drilling is needed for updated reports. Updated reports are needed for the buyout.
What if there is no buyout? It is like saying Kim Kardashian cannot get a date because she is too ugly. The buyout is the last thing that I worry about. Santo Tomas is too huge and too profitable for the major not to acquire it. Before the Coronavirus, Santo Tomas was named by Ambrian as top five projects to be acquired.
https://classicvalueinvestors.com/wp-content/uploads/2020/01/Copper-Projects-Review-Jan20-1.pdf
I went through all of the projects that Ambrian listed in detail. Santa Tomas, in my opinion, is number one copper project in the world, not yet in the hands of the majors. That's how good it is. So I am not worried about the buyout.
Copper price and funding is more on my mind. Coronavirus caused copper prices to fall from $3 to $2.30 per pound. This impacts Santo Tomas' economics. Even though it would take a major about 10 years to put Santo Tomas into production, current copper prices matter. It is stupid, but they do matter.
If the production cost is about $1.50 per pound, $3 per pound looks a lot better than $2.30 per pound. So at $3 per pound, there were a lot of parties interested in financing the drilling and now everybody is in the wait-and-see mode.
I believe that copper prices will recover with the economic recovery, but the timing is uncertain. If it wasn't for Coronavirus, Oroco's stock would probably be at $1 per share. Because it is not, this is your opportunity.
Now, I am not saying that Oroco cannot do the financing at the current copper prices. All I am saying is that Coronavirus probably has to pass before anybody will be doing any financing.
HOW TO STUDY OROCO
There is so much to learn about Oroco in order to feel comfortable with it. If you are interested, I suggest you do the following.
Read everything I wrote about Oroco. The following is a link to my articles.
https://classicvalueinvestors.com/page/3/?s=oroco
Read Stockhouse board
https://stockhouse.com/companies/bullboard?symbol=v.oco
Read articles on Oroco by Caliche
Study copper. Read My Electrician Drives Porsche
I only bought his book and I did not buy the stock the author is involved in. So please don't ask me what I think about his company.
Then, after you educate yourself a bit, call Oroco and ask to speak with Adam Smith or Craig Dalziel.
Disclosure: Long Oroco