To say that there is blood in the streets might be an understatement. I have watched this market go up for 11 years with very little fear. Investors have been trained that nothing bad could happen. So this created a fantastic bull market and now we have a nasty bear market.
Everybody is selling everything. Most stocks are being sold for good reasons because their businesses are getting decimated. These companies are losing revenues while still having expenses and huge loads of debt.
Some companies on the other hand are doing just fine if not better. Take Gran Colombia Gold (GCM on TSX, TPRFF on OTC Markets). The company produces about 200,000 ounces of gold per year at a cash cost of about $650 per ounce (All in costs $900). Currently, the price of gold is about $1,500 per ounce.
200,000 x $850 = $170 million
Plus, it has about $85 million of cash in the bank. By the end of this quarter debt should be about $45 million.
Based on today's close, the market cap is $140 million. All I can say is WOW!
Here is a short write up by another investor.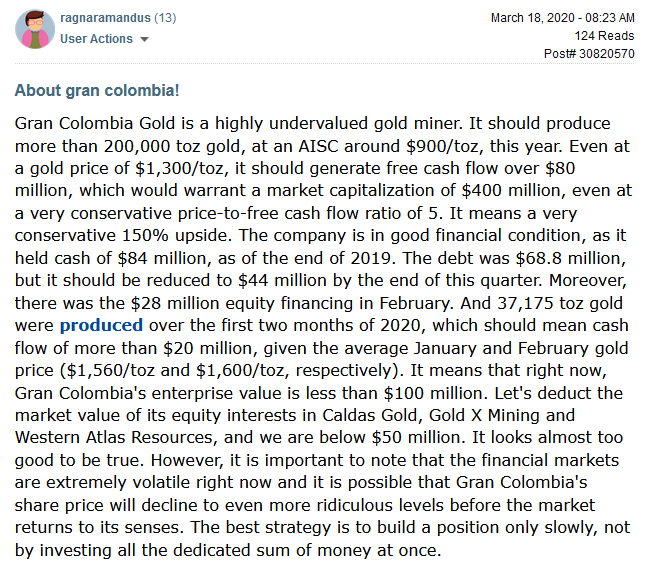 Yesterday, the company announced a buyback. Another WOW. Here is why I say wow again. We know that companies should be buying back their stock to return money to shareholders. However, most of them do that when the stock is overvalued. When the stock is undervalued, they don't do it. One reason is because the management is afraid. Second reason is because the company does not have any cash during bad times because the management blew it on buybacks during good times.
Over the last 10 years, many companies (like airline companies) bought back their stock but now they are screwed. When it comes to mining companies, they rarely buy back their stocks because they always need capital for some kind of development.
When Gran Colombia Gold announced a buyback program yesterday, I almost fell off my chair. I have never experienced this before. This is the right thing to do and I applaud management for doing it.
Now, you might be thinking that the price of gold could collapse. Of course, it can but not for too long. Right now everybody is selling everything because of margin calls. So the price of gold has been weak. However, this is temporary even if the price of gold gets cut in half from the current levels.
I have been researching what is happening to the physical demand of gold because the price quoted is paper price on the futures markets. Demand for physical gold is exploding. Dealers are selling out of inventory because some people are seeing all the money printing by the Fed right now and are buying up all the physical gold to save themselves from hyperinflation.
Gran Colombia Gold is a 200,000 ounce per year of physical gold producer. It is doing so profitably while the demand for its product is exploding. I don't know about you but I am loading up on it.
Disclosure: Long Gran Colombia Gold