DUE DILIGENCE: HOW TO RESEARCH A STOCK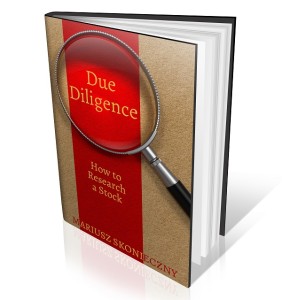 PRODUCT DESCRIPTION
Due Diligence: How to Research a Stock is a straightforward guide to the process of effectively researching potential stock market opportunities. The method featured in this book is the one developed and used by the author over many years of studying companies. He describes three stages—quick due diligence, medium due diligence, and full due diligence—and explains the requirements and estimated amount of time for each one. The book covers what questions to ask at each stage of the process, how to use various resources, such as SEC Filings, and which websites are the most helpful and why. The author also explains how to find and interview the subject company's customers, suppliers, and managers. Due Diligence: How to Research a Stock provides readers with the knowledge and background needed to investigate any business entity in order to improve one's chances of success in stock market investing.
---
100 WAYS TO FIND INVESTMENT IDEAS
The Investors' Reference for Generating Actionable Investment Opportunities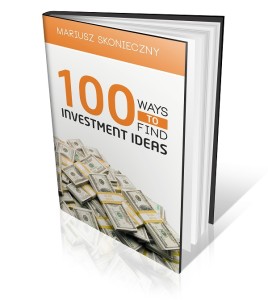 PRODUCT DESCRIPTION
Finding great stock picks is one challenge that every stock market investor faces. While it may seem like there are many possibilities, only a few will be true winners, and it can be difficult to uncover them.
100 Ways to Find Stock Investment Ideas teaches readers about a wide variety of sources that can be used to find actionable investment opportunities within the stock market. If you are already an investor, some may be familiar while others will be new. Investors will find this book to be a valuable guide that they can refer to again and again. Buy it from Amazon
---
WHY ARE WE SO CLUELESS ABOUT THE STOCK MARKET?
Learn how to invest your money, how to pick stocks, and how to make money in the stock market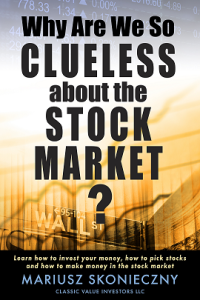 PRODUCT DESCRIPTION
The purpose of this book is to help readers understand the basics of stock market investing. Material covered includes the difference between stocks and businesses, what constitutes a good business, when to buy and sell stocks, and how to value individual stocks. The book also includes a chapter covering four case studies as well as a supplemental chapter on the pros and cons of real estate versus stock market investing. Buy it from Amazon
DOWNLOAD A COPY OF OUR VALUATION MODEL IN EXCEL
---
THE BASICS OF UNDERSTANDING FINANCIAL STATEMENTS
Learn How to Read Financial Statements by Understanding the Balance Sheet, the Income Statement, and the Cash Flow Statement
PRODUCT DESCRIPTION
The purpose of this book is to help readers understand the basics of understanding financial statements. Material covered includes a step-by-step instruction on how to read and understand the balance sheet, the income statement, and the cash flow statement. It also covers information about how these three statements are interconnected with one another. Buy it from Amazon
---
GOLD PRODUCTION FROM BEGINNING TO END
What gold Companies do to Get the Shiny Metal into Our Hands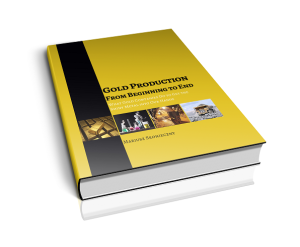 PRODUCT DESCRIPTION
Gold mining is arguably one of the most misunderstood industries in the field of investing. Many investors lack a basic understanding of how gold is produced and have unrealistic expectations about how long it actually takes. They are confused when mining companies encounter hurdles that must be overcome. Some seem to think that starting a mine is like turning on a switch. As a result, the prices of gold mining stocks are subject to wide volatility. In this book, you will learn what it takes to produce an ounce of gold from beginning to end. You will read about all four stages of gold production, from exploration and mining to processing and refining. The topics covered include the different types of gold deposits and how they are found, as well as drilling techniques and how deposits are classified. Other topics include mining methods, such as bulk extraction and sublevel stoping, and an overview of special techniques used to process refractory ore – the most difficult type of ore to process. Finally, you will learn about doré bars, gold purity requirements, and the exchanges that specialize in buying and selling gold. Buy it from Amazon
---
INVESTMENT WISDOM
750 Quotes from 50 Legendary Investors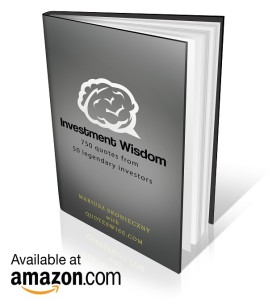 PRODUCT DESCRIPTION
Investment Wisdom contains some of the best quotes from 50 investors who have distinguished themselves in the world of investing. Quotes can teach us so much in so few words, and though you may read them over and over, you will gain a deeper understanding of the message each time. A variety of investors—some familiar and some relatively unknown—are represented within this book. They are bargain hunters, contrarians, and independent thinkers who reached investment success by trusting their judgment when no one agreed with them. Their insight and intuition come to life through their words to guide and inspire us. Buy it from Amazon